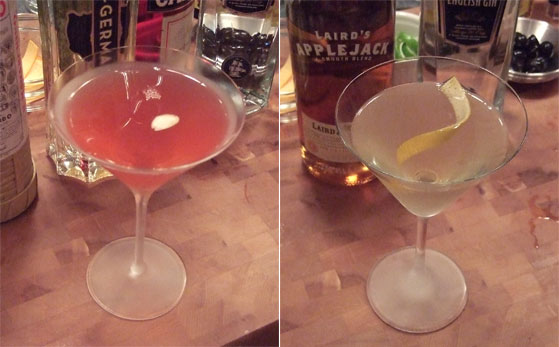 Michael Oakley

Ingredients:
2 oz tanquery 10 gin
1/2 oz campari
1/2 oz st. Germain
1/4 oz luxardo maraschino liquor
1/8 oz orgeat
2 dashes Fee's barrel aged whiskey bitters

Stir with twice the amount of ice you usually use and garnish with an almond flake

John Dietl

Ingredients:
1.5 oz. London Dry Gin
0.5 oz. Bonded Apple Brandy
1 tsp. simple syrup (1-to-1 sugar to water)
4 drops Orange Bitters
1 lemon twist

1. Pour the Gin, the Apple Brandy, the simple syrup, and the bitters into a mixing vessel.
2. Stir with ice.
3. Strain into a cocktail glass.
4. Garnish with a lemon twist.
Winner:
John Dietl
Score:
3-2
Game Summary:
Oakley's cocktail was called "exciting" by one judge, but the majority of the others could not conceive of finishing the whole thing. Plus it's a bit fussy. When we have the Spectacular Bitch cocktail contest, this could be the winner. Dietl's drink is simple, beautiful, enjoyable.
See the full tournament field
Contest sponsored by
KegWorks
POURCAST
BETA
Sidecar
2 parts Germain-Robin Craft Method brandy
1 part Cointreau
1 part fresh lemon juice
Lightly shake with ice, then pour into a ice-filled rocks glass. Based on your tastes, brandy choice, and strength of the lemon juice, you should adjust the Cointreau and lemon juice to find proper balance.
---
In-Depth Sidecar Coverage:
Bridge the Summer-Fall Cocktail Gap with the Sidecar
×
Currently in
Minneapolis, Minnesota

51° Clear/Sunny

Feedback? editor@magnificentbastard.com
recent posts
Welcome to the 7th Kind-of-Annual Allyn Scura Eyewear Challenge, sponsored by our all-time favorite...

Q: What make/model of sunglasses has Paul Weller been wearing for the last 20+ years? Gold / single wing...

Q: I've my eyes on the Black Racer Jacket from Belstaff that you featured in

Q: My father passed away recently, and I've inherited his Omega Seamaster Planet Ocean 600M Skyfall. I'll...

We combined our latest sale — two Made in USA ties...
---
ask mb
Got a style question? We're all ears. And antlers. Ask away.
---
tip mb
If you know about something you think we should know about, let us know (so we can pretend we knew about it all along). Send a tip.
---
features
---
channels