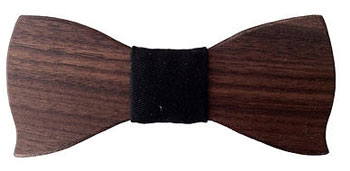 Q: I am preparing the groomsmen attire for my upcoming wedding. Naturally, our gentlemen will wear bespoke formalwear, as selected by the bride and I. Thin arched lapel, two button classic style coupled with a tapered, fitted jacket. I call it the Lafontaine. Here's the kicker: the suits will be black, likely with white shirts (also fitted). In true bastardly fashion, I am considering offering the groomsmen a lasting, memorable gift: a woodworked, Quebec-issued bowtie made of noble wood. Given that I will be wearing a black (silk) bowtie, I'd like to differentiate them with another color. Can the men wear a brown on black style or must it be black on black?
Please advice, O wise Sensei.
Regards,
Louis-Philippe
A: We don't place much stock in the sanctity of marriage, but when it comes to the sanctity of marriage attire, we're strict traditionalists. If things go well — and we sincerely wish you the best — there's a chance your wedding photos will be hanging on your wall for 20, 30, even fifty years. Do you think your groomsmen's prospective wooden bow ties will stand that test of time?
So while your desire to offer your groomsmen a lasting, memorable gift is admirable, we'd like to steer you away from your current choice. You need timeless wedding attire, and that means ties that come from a silkworm's ass, not a tree.
As for a gift for the groomsmen, we recommend an engraved glass cocktail shaker. It's lasting, it's memorable, and if your groomsmen are worthy of being your groomsmen, it's a gift they will use often and appreciatively while getting shitfaced for years to come.
À la tienne!