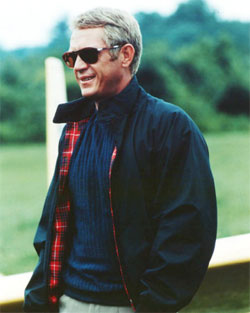 Q: As light jacket season is upon us in the Midwest I have seen several poorly plagiarized examples of the classic British Harrington jacket. I was hoping you could say a few words about the merits of purchasing the genuine article: the Baracuta G9 Harrington (preferably slim fit). Unlike many readers of this fine blog, I do not need to ask whether this is MB, as it simply is. But I think it is important to highlight a company that still makes many of its garments in England and has never strayed from its core business. This classic will never go out of style.
--Steven

A: Steven, not much to add here, except that Steve McQueen is combining Persols with his Baracuta. No doubt one of the "poorly plagiarized" examples you mention refers to the $109 L.L. Bean "Signature" Canvas Jacket we recommended to our dads a couple of weeks ago. (Hey, their 401Ks are in the tank.)

We agree. If you're going to own this jacket, get the real McCoy.