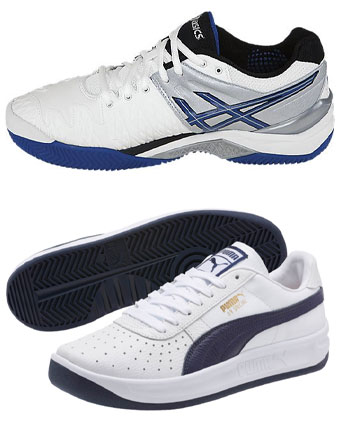 Q: I am trying to find something that I am not sure exists. I play tennis fairly regularly and I am looking for a performance tennis shoe that doesn't look like I just stepped out of an Academy. Currently I wear these (Asics). I like these a lot performance-wise, but I want something with a more vintage look like these (Nikes) or this (K-Swiss). Am I chasing a unicorn here?
—John
A: John, those Asics you're wearing have "gel" in the model name, which we're pretty sure is a footwear prereq for enrollment into IMG/Bollettieri.
We play tennis year-round on clay, hardcourt, and even grass (see below) and have recently struggled with the same problem. For many years we wore the Rod Lavers — which are similar in style to the Nikes you admire — and while hardcourts shredded them faster than a 4.5 playing a 3, it was a small price to pay for their comfort and low-key iconicism.
Then in 2014 Adidas ruined the Rod Laver. They made them "freakishly heavy" with a sole that "feels like a 100lb slab of concrete," per the reviewers at adidas.com, with one critic adding, "If I could give a zero-star rating, I would." It's all true. Now they're discontinued entirely, which has led to the creation, naturally, of a Save the Adidas Rod Laver shoe" Facebook page. (BTW, please Like.)
But you didn't ask for a recent history of the Rod Laver. You want a performance tennis shoe with a vintage aesthetic, and we have it: The Puma GV Special. Now, Guillermo Vilas was no Rod Laver, and they were released a decade later than the Rods (1980), but they're far more rugged, and maintain compatibility with white Borg-inseam shorts and McEnroe headbands. Plus, if you look hard enough you can sometimes find them for about 35 bucks. Try 'em out and let us know what you think.
---
About those grass courts...
One of the many great treasures of our home state of Wisconsin is Sand Valley Golf Resort in Nekoosa. Besides 36 terrific walking-only holes (with 18 more coming in 2021), they have 9 grass courts. So along with your 3-wood and white balls, pack your woody and white balls.