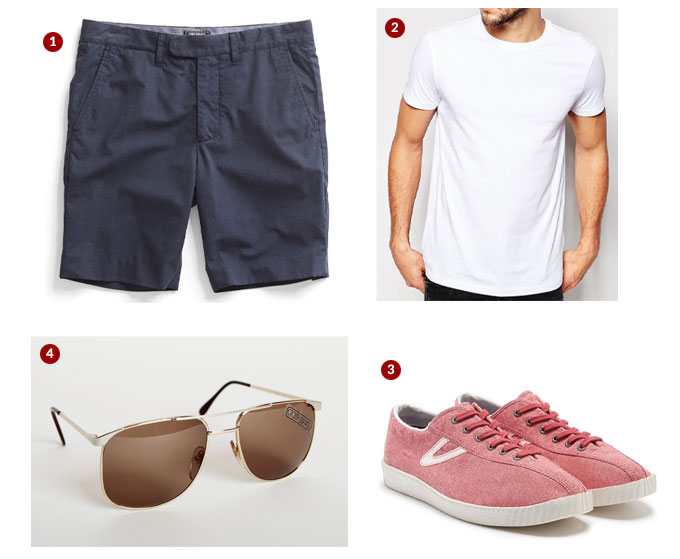 We do music festivals about as often as we vote for President, but this Sunday's lineup is irresistible with Galantis (our current fave), The Chainsmokers, ODESZA, Florence + the Machine, and Kygo. (Speaking of the latter, check out his remix of Sexual Healing.)
We need to get dressed.
1. Shorts. These Todd Snyder Navy Plaid Shorts are one of our favorite purchases of 2015. They're a slim fit, so skip if you're currently carrying too much chub or have Tour de France competitor-sized thighs, but these are highly tailored shorts in a fabric with a terrific hand and a stylish, yet understated plaid pattern. We'd even consider paying the original $225 but they're just $59, and 30% off through August 2 with code THIRTYOFF. (That's $41.30.) (Check your size using Todd Snyder's highly-accurate sizing wizard.)
2. Shirt. Like country clubs have a collared shirt policy, Lollapalooza should have a collarless shirt policy. With t-shirts there is a high risk of violating the MB Legibility Principle, but this is easily avoided with this simple New Look T-Shirt with Crew Neck, which is the closest we've come to discovering the perfect white T, and it's 11 bucks. Order one size larger than normal. (New Look is like the UK's GAP, except it's not closing 25% of its stores.)
3. Shoes. Comfort usually trumps style in extreme walking-and-standing situations, but you can get both with these Tretorn Nylites in aurora red chambray, and they're on sale for $45. If some lightweight Millennial sprays on them, no big deal. (These run slightly large.)
4. Sunglasses. Girard 3700s. If you weren't one of the lucky dozen to get a pair of the same frames worn by Bradley Cooper in American Hustle, we have five more pair of the red-framed ones. Not every man is capable of pulling these off, but if that's you, you'll look like a million bucks.