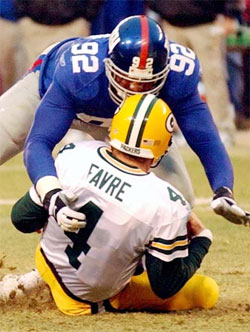 Q: As we MBs get older, most of us fight a valiant battle against middle-age spread. My svelte lines aren't what they used to be, despite my efforts, and I'm finding it harder and harder to make my Magnificent outfits look right. What advice do you have for us over-35 MBs to help us maintain our Bastardly good looks and taste in the face of increasing waistlines? What fits or methods are going to universally look MB on the bigger man? Thanks, and keep up the good work!
--Red

A: A few weeks into the 2000 season, when 30 year-old quarterback Brett Favre was dealing with both tendonitis and conditioning issues, John Madden said, "The older you get, the harder you have to work." While it seems a little backwards and slightly unfair, it's the truth for QBs and MBs alike.

So, Red, we're not going to tell you to which shades of lipstick to apply to a pig, or which oversized camp shirt looks best untucked. Because we can't, in good conscience, plop you down on the very slippery slope to sweatpants and tracksuits.

In other words, get to work.