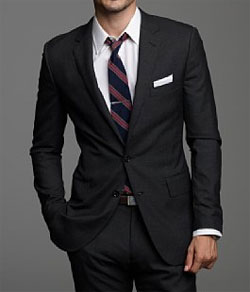 Q: I have to attend a viewing/funeral with my girlfriend for someone I don't know. It's Saturday and I am in college so I don't have much time to plan. What would the MB recommend for an aspiring MB?
--Matthew

A: Matthew, use this stranger's death as an opportunity to prepare for the next phase of your life: get into a four-season charcoal gray suit. Besides rocking the funeral, it will serve you nicely for forthcoming interviews, peers' weddings, and just about any other occasion that calls for a suit.

With the deadline just two days away, online and custom are clearly not options, which can be a good thing since they sometimes cause anxiety due to The Paradox of Choice.

Two acceptable suits available at popular offline stores are the oft-recommended J. Crew Aldridge, or, of you're a bigger guy or prefer a more traditional cut, BR's version which is $80 cheaper. Either way, just be sure to stay clear of Men's Wearhouse.