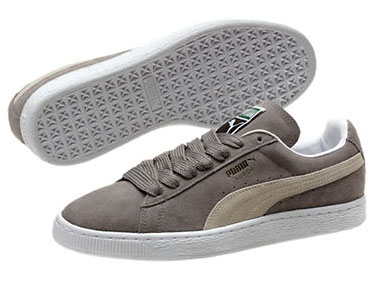 Q: Hi. I like old school Nikes (Jordans), Asics, Adidas and so on. Is it MB to be a sneakerhead? I assumed it wasn't. Am I correct?
—Richard
To paraphrase Craig Finn, certain brands they get so scratched into our souls. And when we really start thinking about it — and we have been, because of your question — we realize that many of the brands that have been scratched into our souls (and, yes, soles) deepest and longest are sneaker brands.
It's possible we were introduced to McDonald's, Mars, Inc., and Coca Cola earlier than we were introduced to Puma, Adidas, Pony, and Converse. These days, however, we go years without a Big Mac, months without a Snickers bar, and sometimes even a week without a Coke. Whereas we believe that there is probably no 72-hour period over the course of our post-toddler lives where we have not worn one of the aforementioned brands for at least a couple hours.
And of course those brands have company in our overall collections — a quick assessment of our three nearest closets nets approximately 140 pairs of sneakers from roughly 30-plus brands, with heavy emphasis on Golden Goose, Tod's, Diemme, and Maison Margiela.
That said, we've never owned a pair of Air Jordans, much less cleaned them with a toothbrush. So are we sneakerheads?
As we understand the term, sneakerheads seem to focus on (a) shoes that NBA superstars and other professional athletes might credibly wear in regulation play, (b) shoes that Captain America might go jogging in, or (c) shoes that Marc Benioff might wear while delivering a keynote address at Dreamforce.
While we can embrace option (a) in limited contexts — we're not going to play tennis in our Maison Margielas — options (b) and (c) don't appeal to us under any scenario. Instead, we stick to vaguely businified sneakers — i.e., sneakers we could wear to work without, as we've said in the past about sweatpants, making our colleagues wonder if we're about to dunk on them.
In the end, we think the best way to express our thoughts on this is a Venn diagram: