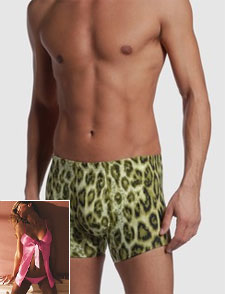 Q: Let me tell you - the white shirt approach (with good tan for bonus points), combined with the blue suit / black belt & shoes have been instrumental in pulling down the play (euphemism for "chicks" —ed.).

Today's question: the play is sending me this weekend's picks from Victoria Secret – (Pink Satin Baby Dolls) and inquiring on my style of undergarments. Help! Don't want to get into the boxer / brief debate and there is no way I'll be caught in anything that looks like a Speedo, but need official MB guidance – what about silk boxers? The activities of this weekend could be in jeopardy if I'm not wearing the correct uniform for the game.
—Tom

A: Tom, if we can take any credit in getting you some action, well, it's perhaps the highest form of praise. Now regarding your underwear selection, let's be clear about what's happening here: The "play" is sending you links to Victoria's Secret Pink Satin Baby Dolls. It doesn't matter whether you're in boxers, briefs, a g-string, or even this Cavalli leopard print, she's into you and you cannot possibly fuck it up.