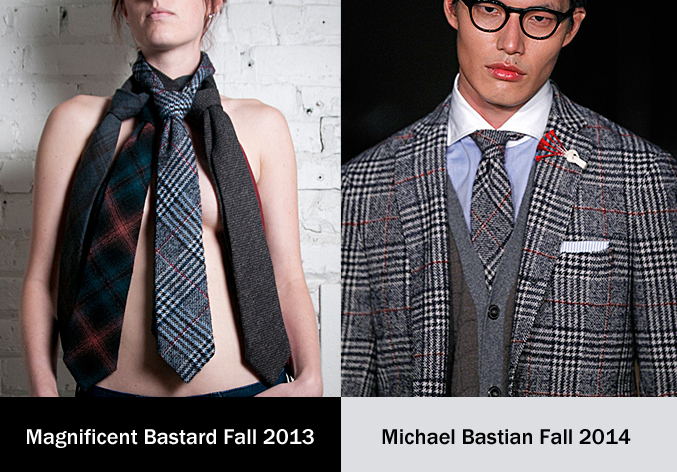 If there's one hard and fast rule that defines the menswear industry, it's this: What starts on the streets of Pulaski eventually trickles up to the runways of Manhattan. And so it was at New York Fashion Week this year — where we spotted a Michael Bastian tie (and blazer) that is not-quite the identical twin of our beloved Buscemi, but certainly a brother from the same mother. Same pattern, same nubbiness, from the same mill in Biella, Italy. The colorway we chose has a bit more blue, which gives it that playfulness that makes it work on boardwalks as well as boardrooms.
Also, our model is better looking.
In any case, if it was ever in any doubt, it is now confirmed: Michael Bastian has great taste in ties. And he seems to have fallen in love with this particular fabric — using it for a bow tie as well as the aforementioned tie and blazer.
But if you don't want to wait until Fall 2014 to get his tie, you can get the Fall 2013 Buscemi now.
And because we know Mr. Bastian has had trouble affording his own clothes in the past, we've decided to make it easy for him — and anyone else — to pick one up. Starting now, the Buscemi, the Leotardo (whose fabric comes from the same Italian mill as the Buscemi), the Kakutani, and the Buckley, are all on sale, for just $45 each. Yes, with free shipping included, this almost qualifies as a humanitarian gesture. But what can we say? We're artists, not businessmen.