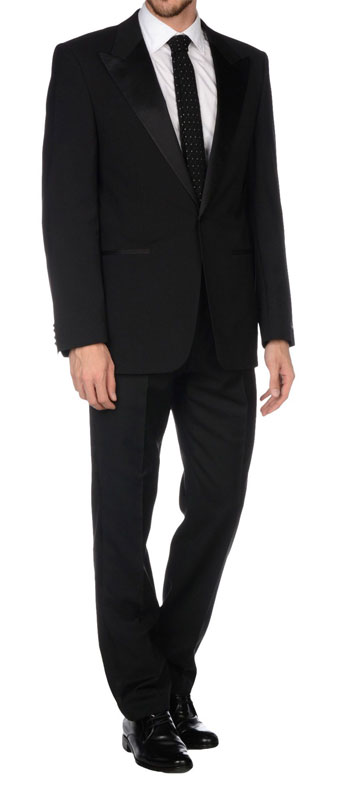 Hey folks, I recently popped the question to my longtime girlfriend, and for some reason, she said yes.
I would love to marry the woman of my dreams in an equally incredible tuxedo. I have no clue where to start, but I want something cool and classic with a pop. Money is an object, but the right suiting is worth it. Be my sherpas and (please!) point me in a direction.
—Mike
A: Mike, we are both honored and humbled that you would ask us for advice on what might be the biggest mistake day of your life.
We adhere to our 2008 stance and say a wedding tuxedo should be able to stand a 100 year test of time. While it's been only 8 years since we recommended the classic Ralph Lauren peak lapel version, it looks as good now as it did when John McCain was running for president.
The only catch is it's $1,395, up from $1,350. There is bigger value to be had.
Until ASOS and UNIQLO start making tuxedos, we shall rely on YOOX, where there is an additional 25% off through August 26. Here are some suggestions that meet our style requirements:
Boss Black. $551 ($413 with 25% discount)
DSquared2. $1,182 ($886)
Lanvin. $1,117 ($838)
Gucci. $1,307 ($980)
All of these options are fairly similar, aesthetics-wise, so choose the one that's the best fit for your wallet and your torso. If you're feeling symbolic, give extra consideration to the DSquared2, which is 5 percent elastane. Normally, we're against synthetics, but any marriage built for the long haul can always use a tiny amount of stretch.
Apply your savings towards your shoes, shirt, tie, and if you want a good deal on groomsmen gifts, we'll be happy to work something out to help you celebrate your big day.
Best of luck to you and your new bride, and let us know what you end up deciding on.
Meanwhile, check out our wedding ring advice.