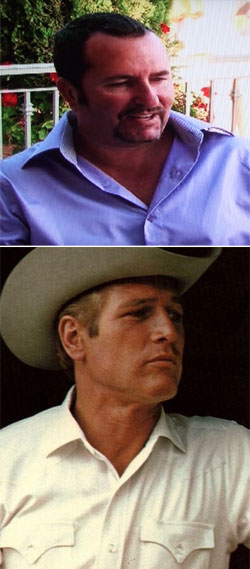 Q: Should an aspiring MB apply the polo shirt N-2 buttoning policy to sport shirts? Should one ever wear such a shirt with only the very top button unbuttoned, or would this be an example of toolbaggery?
--Russell

A: Unfortunately that simple formula does not apply to sport shirts because there are other factors at work, like button spacing, collar shape and size, and abundance (or, preferably, absence) of chest hair. In other words, it depends.

But to illustrate where we lean, take a look at a TBT (Typical Bravo Toolbag) at the top with two unbuttoned, and MB icon Paul Newman in a western -- a shirt almost demanding N-2 -- with just the top button unbuttoned.