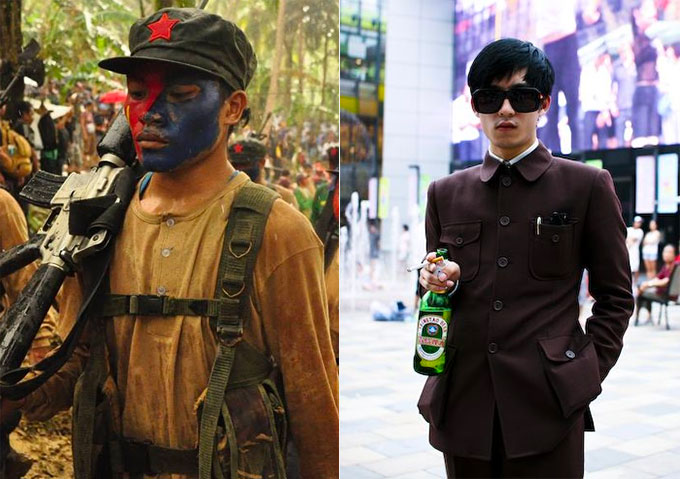 Q: As a young activist/Marxist revolutionary in the Philippines, what's the best way to look good on the streets while still ready to take down an oppressive government?
—James
A: We suspect even a hint of New People's Army garb — a Mao cap with a red star, or green shirt — will get you jailed, or worse.
Our first thought was an updated Mao suit jacket — something like this — that Duterte's goons wouldn't pick up on, but would wink to the intellectual class that you're on the same team, and allow you to literally wear on your sleeve the Four Virtues its four pockets represent: propriety, justice, honesty, and a sense of shame.
But that thought didn't last long, once we remembered the Philippines is tropical. While we fully support your cause, if uniting the workers of the world means having to wear a buttoned-up wool suit jacket in 75°F dew points, we're out, and cannot recommend it for you.

Here's what we came up with instead, along with our rationale:
Shirt: CP Company
Shorts: Dolce & Gabbana
Shoes: Adidas
(We checked. YOOX ships to the Philippines.)
The shirt is climate-appropriate, foremost, with faint echoes of the Mao suit's utilitarianism and militarism. The shorts support the top, sharing the same elastane content and slim cut. And the shoes, while maybe not strictly proletarian, is an application of our high-low approach to outfits (and more importantly, they're comfortable on the streets). Finally, everything is black, which not only fulfills on the Maoist monochromatism maxim, is also practical when trying to slip out, undetected, to the nearest NPA camp.
Be smart, James. Stay safe. We wish you the best of luck.