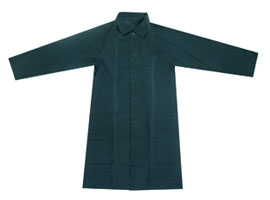 Q: As a poor college student, what does MB suggest I wear for when it's raining out? I know you recommend a Mackintosh Coat but those a little too expensive for a student's budget.
-Peter

A: Muji Welder Raincoat Freecut. It looks like Prada and it's $12.75. But that's not even the best part. Whether you've got long arms or short, long torso or short, it doesn't matter; just grab a scissors and cut along the dotted lines on the hem and sleeves. (Scissors not included.)

UPDATE: Peter, here's what not to wear when it's raining: Sun Mountain Rainflex jackets and pants. Americans at the Ryder Cup had to abandon this permeable rain gear in favor of nonpourous ProQuip outerwear available at the merchandise tent.