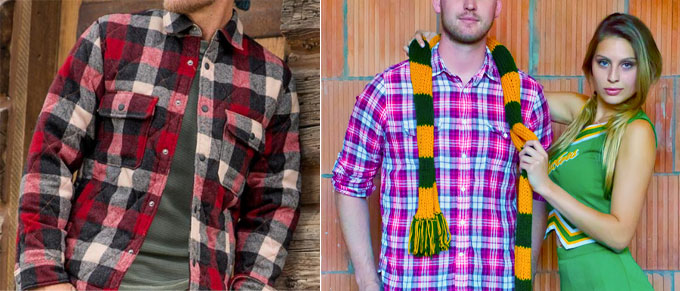 Q: Hi MB. Based on your recommendation, I recently got a Woolrich White Label Quilted Mill Shirt Jacket. I love it. Thanks. What are some great (and relatively inexpensive) scarves that you'd recommend to go with it? Thanks!
—Chris
A: Glad you like that jacket as much as we do.
As for winter scarves, we have one hard and fast rule: must be mostly cashmere. It's the only thing soft enough we allow draped around our necks, besides the the drunk temp at the office Christmas party.
As for colors and patterns, we've had great luck pattern-matching all kinds of outerwear with Missoni's funky stripes. And in the case of this this jacket, it's irresistible going high-low, pairing a workwear jacket designed in Pennsylvania with a cashmere scarf designed in Lombardy, Italy.
But you asked for "relatively inexpensive."
One glance at YOOX, and you can play it safe with a solid grey scarf from Arte Cashmere ($67), or if you're feeling slightly more adventurous, there's a beginner plaid-plaid matching opportunity with more Arte Cashmere in black or khaki.
Good luck and let us know what you decide on. And don't forget to check out our scarf-tying guide: 7 Ways to Tie a Scarf Based on the Game-Time Temperature at Lambeau Field.