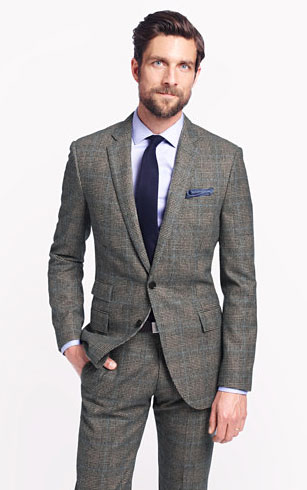 Q: Hey Guys - long time devotee, glad to see you back. I'm getting married and am shopping for suits. I'm decking my groomsmen out in charcoal Indochinos (God knows what those assholes would show up in otherwise), but would like something a step up for myself.
I'm looking for a medium grey Glen Plaid two button, dual vent but having a hard time finding a nice one. I like the current J. Crew Ludlow, even if the lapels are a bit thin. It has a very nice fabric (same mill as your Buckley tie), but for some reason they refuse to sell it with an inseam for the taller gentleman. I'm 6'4" and typically wear a 36x35", not to mention it looks like their pants tend to run on the short side to begin with.
I'm very open to getting something MTM, but I'd like to keep the price somewhat reasonable, say $1500? I sincerely appreciate any advice!
—Jim
A: We admire a man who eschews a traditional wedding day costume in favor of something he'd wear to dinner. This epitomizes the core principle of understatement.
Neighbor: "Working on a Saturday, Jim?"
Jim: "Nope. Getting married."
Bravo.
As for the suit, given your size, it will be as difficult finding anything OTR that fits as it was finding your soulmate. Or the person within your geographic and socioeconomic circles who's willing to tolerate your idiosyncrasies and that you leave the seat up. Whichever.
Anyhow, go MTM, as you suggest, and try Brooklyn Tailors. Started by a couple in their Clinton Hill apartment, their stuff is now at Barneys, yet bespoke suits are $1,275; reasonable by MTM standards and within your budget. Spend the balance on a custom shirt.
Finally, we don't know if you or your bride have picked out a wedding band, but we recommend this style. If it's good enough for Prince William, it's good enough for us, and should be for you, too.
Earlier: MB Wedding Ring Chart