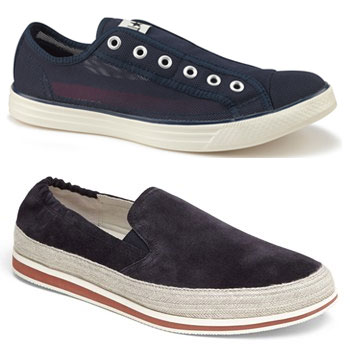 Q: Hey MB: Headed to Miami and Key West next week and need footwear for the beach and pool. That sounds easy but I struggle with open-toe and also need arch support. I've tried OluKai, Sanuk, and I am embarrassed to say, Teva. None have worked out. Any ideas?
—John
A: A Google search for "stylish orthopedic closed toe sandals" returns zero results.
But we have a couple of suggestions.
First, try to find a pair of Converse All-Star Chuck It mesh slip-ons on eBay. Arguably Converse's greatest contribution to footwear since the All-Star high-top in 1917, these are our all-time favorite beach/pool shoes. Sporty, light, submersible as a Triton 100, quick-drying, comfortable, and oddly enough, boasting better arch support than the traditional All-Stars provide. Unfortunately, Converse hasn't produced them since 2010, which is why you'll have to hunt for new old stock on eBay.
Second, since you're headed to Florida but stressing over arch support, we assume you're not going there for Spring Break — you sound like someone who is probably a little more seasoned than a college student, and presumably a little more well-heeled (and simultaneously weak-arched). So we think you probably have the means to invest in these Prada espadrille sneakers. While you won't be able to swim in them, they've got an insert, so are far more comfortable than most espadrilles that are set on a flat jute slab. And they will give you all the support your arches need no matter how heated things get on the shuffleboard court. Enjoy your vacation!