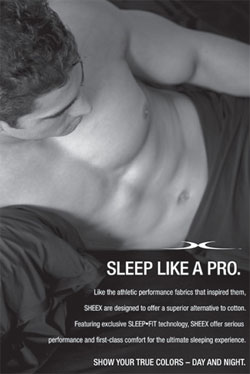 Q: As much as despise the phrase "jumping the shark," it appears that MB has done so with the last two posts. How can MB endorse a hoodie? I remember reading past articles that the hoodie was replacing the track jacket and a true MB should avoid this trend....now you have endorsed a fleece Columbia hoodie. Secondly, Sheex sheets. What about your mantra of organic materials only? These sheets are made of polyester. Should I throw out the advice of high thread count sheets and replace with this work out wear bedding? Very confused right now.
—ML

A: ML, both the hoodie and bedsheets posts were in celebration of April Fools' Day.

Gotcha.

As you stated, the 82% microfiber polyester and 18% Lycra Spandex SHEEX grossly violate the MB principle of organic materials. They also violate the MB principle of "Never buy anything 'The Situation' probably owns."

We've previously recommended high thread-count Tencel for the warmer months. They're also good year-round for the warmer-blooded, and of course, for those hot, sweaty chicks you bring back home from the club.

In its inexorable drive towards being Wal Mart, Target has stopped selling the popular, MB-recommended cotton sheets, so we suggest buying as high a thread count you can afford made by Sferra. They're expensive (and don't have the wet spot wicking power of SHEEX) but are well worth the money. You can find them occasionally at Gilt Home. (Drop us an email if you still need an invite.)

As for the Koozie Hoodie, with a built-in bottle opener and two beer bottle holders, well, we think Columbia might be fooling everybody 365 days a year.