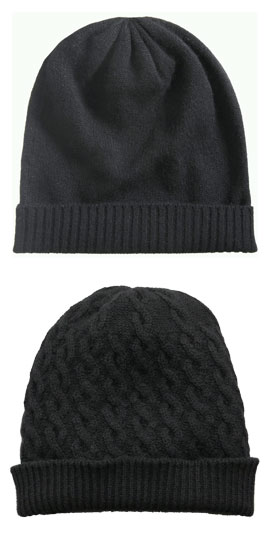 Hi MB. I am into soft knit winter/fall hats, and really like this one from J. Varvatos. It's soft cashmere and looks pretty good without being douchy. Any ideas that don't cost flipping $168? It's a hat!
—Dan

A: We have a simple rule about winter hats. If it costs more than $100 it must be 100% cashmere. Maybe even 110%. Either that, or there should be one extremely cold beaver somewhere. That Varvatos hat, while a fine-looking chapeau, is $168 and it's only 25% cashmere. Not even close!

For similarly-styled, pure cashmere alternatives, check out the $75 Barney's Co-Op Basic Skully (top). When we strongly recommended it last year it was ten bucks less but it's still worth it. Same goes for the Portolano cashmere hats at Bluefly that are just $36.

Not that we're saying you should pinch your pennies when it comes to your head. After all, you'd surely spend $168, and probably even much more, on a pair of shoes you really like — and what are your feet but the day laborers of your body? Your head, meanwhile, is the CEO. So don't skimp! To that end, we like this cabled Bottega Veneta cashmere cap (bottom). Sure, it's $260, but like all CEOs, doesn't your head deserve a nice Christmas bonus?