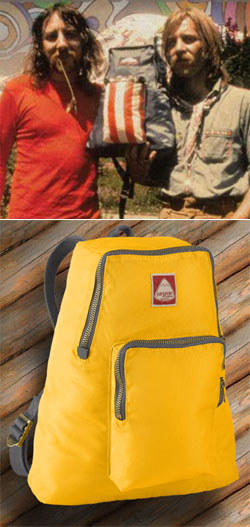 Lately we've been seeing backpacks so technical it looks like the wearer is either about to make a run at Everest or preparing to jump out of a plane.

Enter Jansport Heritage -- particularly the Wayback -- a bag designed by two hippies in 1969. We can think of no better pedigree, because let's face it, if you were a hippie in 1969 and you were spending your free time inventing backpacks instead of getting stoned with George Harrison and balling nubile runaways from Topeka, well, you had to really like backpacks!

At the same time, you wouldn't waste a lot of effort creating tiny little compartments, weird loops only a French alpinist could decipher, and various other "functional" ornamentation -- because George wanted to get stoned. And those runaways were pretty cute.

There are two straps, two zippers, and two compartments -- a big one for your weed and a small one for everything else. Beyond that, what else do you really need?