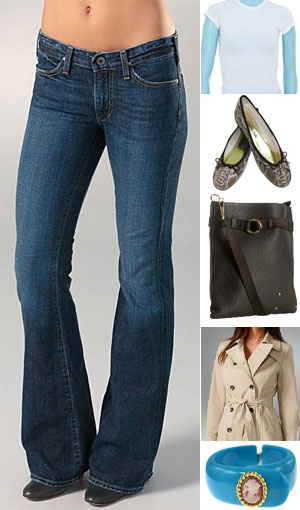 Q: Dear MB: Over the past several months, I've come to trust your sense of style and taste. I'm curious to know if the MB is up for the challenge of applying your gift of knowing what's right and wrong in the world of style to the opposite sex. I'm facing my 20-year high school reunion this summer, which will be held at an upscale downtown drinking establishment (no VFW for this group). I'm tall (5'9") and thin in a healthy way. I want an ensemble that conveys success and looks good with a Tanqueray and tonic in hand, and doesn't scream Stepford wife or "I'm a suburban mom of two" (which I am). Do you think you can help?
--Cindy

Of course, dear.

Before we get to our outfit suggestions, a couple of important MB Class Reunion Principles to follow:

#1. Principle of Looking Like You Don't Give a Shit. Try looking like you don't take this event too seriously, like you and your husband were out for a casual dinner or gallery opening and then you thought, "Geez, isn't tonight my 20th class reunion?"

#2. Principle of Investing in Your Wardrobe. Don't waste a penny of precious clothing budget on something like a cocktail dress that you'll wear once. Class reunions are chock full of anticlimax. Splurge, but only on something that will likely be in style at the 30th.

And now on to the recommendations:

Pants: Denim, for sure. Not too tight, with a wide opening to allow the ballet flats (below) just enough room to peek out. For women we're partial to AG (pictured, $82.00 -- on sale) and Hudson, but denim is personal so go with whatever fits you best and makes you feel good.

Top: Something simple and updated, like this Vince sheer jersey tee. $48.00, via Barney's Co-Op. Cap sleeves will increase the already heightened drama of your long appendages.

Footwear: Ballet flats, of course. Consider making your shoes your statement piece (only one allowed per outfit), like these faux snakeskin lowcuts from London Sole ($155.00). Suitable for dancing.

Handbag: Pay tribute to one of the all-time greats (and simultaneously keep it casual) with this Yves Saint Laurent brown pebbled messenger bag. $632.00, via bluefly. There might even be room for a diaper and wipes in there.

Outerwear: What if it rains? Or if the event makes its way outside? Let Rag & Bone protect you from the elements, evening chill, and small talk with their Mac Trench. $585.00, via shopbop.

Accessories: Wow that wedding band of yours is serious business. Communicate your fun side -- you read this site after all -- with something whimsical (and affordable) like this blue lucite bracelet with cameo. $14.99, via Target.

Have fun and let us know how it goes.