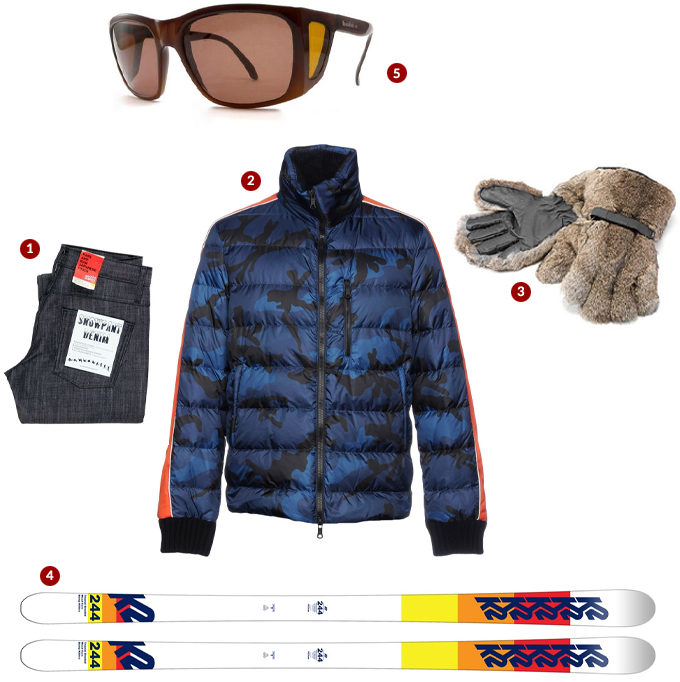 1. Naked & Famous Snow Pant Denim. "Trump Skis in Jeans" is a popular bumper sticker out here. He only wishes he could be so stylish! We've raved about Naked & Famous's Snow Pant Denim for a decade, or about as long as they've stopped making them. Please join our quixotic effort to get Naked & Famous to resume production, and send them a note.
2. Valentino Ski Jacket. This purchase resulted in a confirmation call from American Express, and we said, "Yes, sir. Thanks for asking. Signature pieces are worth this expense." Valentino is currently owned by the Qatari royal family — where they're probably 1500 miles from the nearest ski resort — but got some excellent consulting, packing it with down, a high collar, knit cuffs, and left-breast lift-pass pocket.
3. Wigens Bear Claw Gloves. Part of our Biking to Work in Arctic Conditions collection, these are also great for skiing. Every ride up the chair people ask, "Where did you get those?!" Wigens has stopped making them, and instead inexplicably focused their business on newsboy caps, so they're available only on eBay.
4. K2 Mambas Yes, Hart's F17 Fusion are the bump ski standard, but we were unable to resist the '70s colorblock styling on the K2 Mamba "bump killers." (Also they are half the price.) Compared to either the Hart or the K2, today's all-mountain, wide-waisted skis feel like you've strapped on a pair of 2x4s.
5. Bollé 711s Unless it's snowing, we're part of the 1% who still prefer sunglasses over goggles. Our favorites are these Bolle 711s with sideshields, designed for glacier mountaineering. They're just $75 and available at the official MB eyewear outfitter, Allyn Scura.