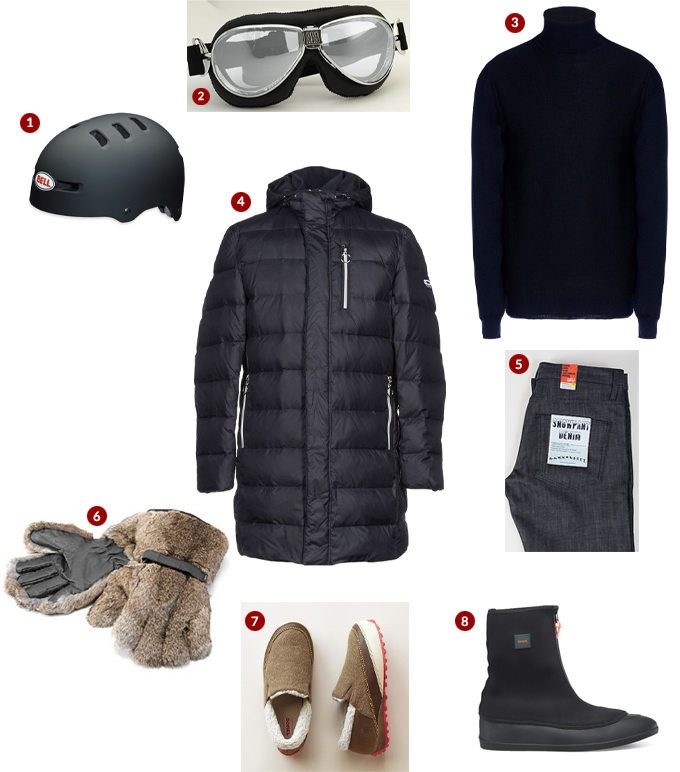 Al Gore and Leo DiCaprio are going to have to take a lot more trans-oceanic plane trips before they manage to put a dent in the bone-bruising chill that greets us every morning in Minneapolis this time of year. But while there's nothing we can do to avoid the snow, sleet, and ice, we can avoid the even-worse-than-usual traffic and parking-space hunts that come with them. How? By continuing to ride our bikes to work, even in the face of sub-zero temperatures.
How do we pull this off without looking like we're about to engage in some heavy breathing with a couple of broad-shouldered Scandinavian beauties at the Winsport Olympic Luge Track? We lay out our strategy below.
HEAD
Smartwool Balaclava underneath a Smartwool Reversible Training Beanie. This is the warmest headwear combination that can still fit under your helmet.
1. Bell Faction in Matte Black. Minimal. Cheap. Works for the aforementioned DiCaprio, and us, too.
2. Nannini "TT" Goggles. Made for motorcyclists but adopted by cyclists looking for a stylish way to keep your eyelids from freezing shut.
TORSO & LEGS
3. Smartwool Baselayer underneath a 8 Wool Turtleneck. A baselayer under a jacket is all we usually need in anything above 10°F but it was -6°F this morning so we layered with a wool turtleneck. 8 makes a stylish one, with value.
4. Love Moschino Long Down Puffer. Down blazer-style jackets and some days even down shirts work for Minneapolis winter commuting. But not this neo-Polar Vortex shit. At anything below 0°F we pull out the long down puffer. Jack Frost may nip at your nose, but first he nips at your toes, then, surprisingly, your ass. Having goose feather coverage back there helps prevent his bite.
5. Smartwool Baselayer underneath Naked and Famous Snowpant Denim. Naked and Famous is responsible for some of the most important innovations in the history of denim, like scratch and sniff raspberry scented jeans. But their all-time best effort is the discontinued Snowpant Denim, a deep indigo wash treated with a waterproof and wind-resistant coating, and lined in comfy fleece. Look for them on eBay and try to grab them before we do.
HANDS
6. Wigens Bear Claw Gloves The synthetic lobster claw gloves you see most winter commuters wearing are neither a warmth nor a dexterity match for these Swedish leather and fur marvels. Unfortunately Wigens seems to have stopped making them. Set up an eBay alert.
FEET
Minnesota-based 45NRTH makes the popular Wölvhammer commuter boot, but they're nearly as heavy as a pair of Pacs, only rated to 0°F, and don't abide by our un-gear aesthetic. After several years of trial and error we've concocted a 4-step footwear solution that's fairly lightweight and can hold up to a 45 minute commute at -20°F.
Darn Tough Hunting Socks. Not all wool socks are created equal. We've tried a dozen different brands and Darn Tough are the best. Made in Vermont.
7. Fleece-Lined Sorel Slip-on Sneakers. Yes, fleece-lined sneakers. These run large.
Teosport Neoprene Toe Covers. Put these over the Sorels.
8. Swims "Mobster" Rubber/Neoprene Waterproof Boots. Wrap the cozy package up in perhaps our all-time favorite footwear and off you go.