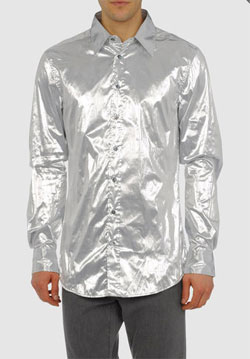 Here's a question for the MB: Where does one get good, grey, long-sleeve dress shirts? In my current bartending job the dress code is black slacks, grey dress shirt. The darker the better so as not to show those pesky Angostura stains that sometimes accumulate during a shift, machine washable, will be worn with sleeves rolled up to around the elbow for functionality. Beyond that the restaurant's pretty open to stylistic touches, so I don't have to look like a total service industry drone. Any ideas?
--Jacob

A: Jacob, this question begs YOOX as the answer: 798 grey shirts from Acne to Zegna, including this 100% polyester D&G version. Not only does it easily repel Angostura, it will keep you warm on any impromptu wilderness treks after a few too many shots at closing time.

The other option, of course, is custom. We're big fans.

* Alexander West has a solid grey poplin for $120. His shirts aren't cheap but they're worth it.

* Deo Veritas has a grey jacquard for just $78. DV made our favorite shirt for the feature.

* If you're pouring for some big tippers, Gitman Bros. has a 140's herringbone twill. When you put it on, you'll know why it's $178.

Good luck, and make ours a double.

Earlier: Dolce & Gabbana take inspiration from Woody Allen's Sleeper.