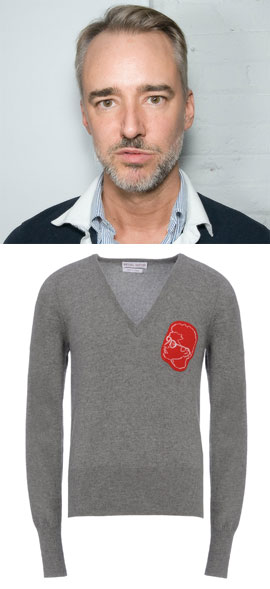 About this time last year Esquire ran a terrific little piece on top designer Michael Bastian, and how he couldn't afford his own clothes due to an expensive relationship with launch partner Brunello Cucinelli.

We speculated at the time that Bastian was shopping at J. Crew.

By going out on his own it was thought Bastian could lower his prices by 20%, but in fact it seems prices for his clothes have increased by about that much. Just in at thecorner.com:

* $810 for a Western shirt
* $2,915 for a blazer
* $360 for a pair of shorts
* $225 for a tank top
* $1,800 for a cashmere sweater with a ridiculous logo

That cashmere sweater (pictured) has us interested in the emerging field of Designer Algebra. In the Michael Bastian equation, a grey cashmere v-neck sweater is $300. Suede elbow patches are a buck seventy-five. The felt appliqué is 50¢. Put them together and it adds up to $1,800.