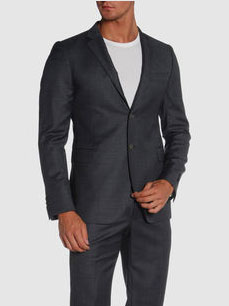 Q: I am planning on pooling some X-mas money together to purchase a suit (the purchase would double this MB-in-training's collection). I am looking for something that says I'm ready for the position/adventure. I've asked for gift certificates to Banana Republic from a couple people, so if you had a few suggestions, maybe you could start there.
--Matt

A: Matt, for a fella who's just starting out you could do a lot worse than a Banana Republic suit. Just make sure it's a two-button version, and nothing too trendy like the 3 external jacket pockets they're showing on some of their Monogram line.

One other place you should explore before making a decision is yoox.com. They have better, more unique suits than BR for equivalent prices. Even the least expensive Banana pant-jacket combo is going to run you $475. For an additional $100 you could get into this Costume National suit (originally $1000) that would announce very clearly you're ready for the adventure, and set you apart from the competition.