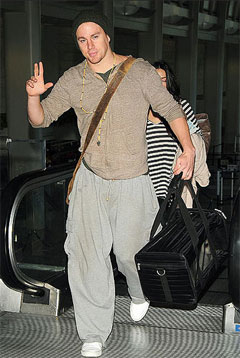 Q: MB, what are your thoughts on airplane attire? Comfortable is a plus, but of course it must be bastardly enough to defy the disturing trend of pajama wearers who have inundated our nation's skies.
--Stephen

A: We agree, today's fliers look like they're ready to either a.) attend a slumber party, or b.) run the 100 meter hurdles. Millions of Americans in tracksuits is probably not the outcome Osama bin Laden had in mind, but in the War on Style, the terrorists have won.

Just a couple of simple rules here: 1.) Wear pants that don't require a belt (no drawstrings or elastic allowed), and 2.) Wear a pair of shoes you can easily slip on and off, like these John Varvatos canvas slip-on loafers or for something more casual, Sperry slip-ons, or Vans.