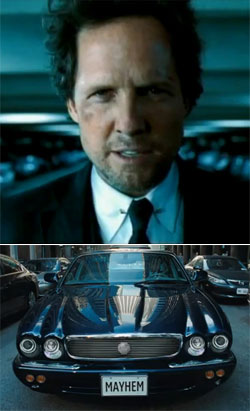 Q: What's your take on collar bars (aka collar pins) as a bastardly accessory? A vintage touch to a magnificent ensemble, unecessarily dressy for everyday at the office, or just TTH? I mean, it's hard to deny the "Mayhem" guy from recent Allstate commercials is a bastard and a half, and wears a tie bar in every ad.
--Nate

A: Based on the number of marriage proposals on YouTube, Allstate has an even bigger hit on their hands with Mayhem than Dos Equis had with The Most Interesting Man in the World.

There is a lot to like here: the shirt collar/tie knot combination, the real 5 o' clock shadow, the way he pulls off a receeding hairline, and of course that sinister grin. And the wink, too. It's no wonder women are crazy for this guy.

The only knock is the personalized license plate (pictured), which is the toolbag auto's de facto standard. As for the collar bar, it's a little Mad Men-y and hence played out, but if you're otherwise as artfully disheveled and bruised and cut up as Mayhem, it works to balance out the look.