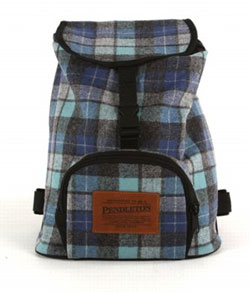 Q: Hello MB, love your website.

Topic: MB approved bags for bicycling. According to my girlfriend all backpacks are nerdy though they are ok for actual backpacking. So I'm looking for a magnificent, somewhat practical and non-bikecourierlooking bike bag... Any tips?

Greetings from snow buried Estonia,

Siim Teller

A: Hello Siim,

While many cyclists prefer to let their bikes carry the load, we have no problem throwing on a backpack when doing our part to save the environment from one more godawful Prius. We also favor a traditional backpack design over a messenger bag. Minimalism has its place, but not when our latissimus dorsi is involved, and two straps are better than one.

That said, the most comfortable backpacks tend to involve a little too much cordura and Oakleyesque styling for our liking -- we prefer the more archaic approach of this Pendleton/Opening Ceremony bag, which, while lacking the padding of some more contemporary designs, completely alleviates the psychological pain that comes with knowing you have chosen to sacrifice style for comfort. No one will ever accuse you of that while wearing this.

In the event that you are looking for a one-strap solution, we recommend the Minnehaha Canvas Shoulder Bag. Made of natural materials, designed by people who ride bikes in the snow; we think it will look great in Estonia.