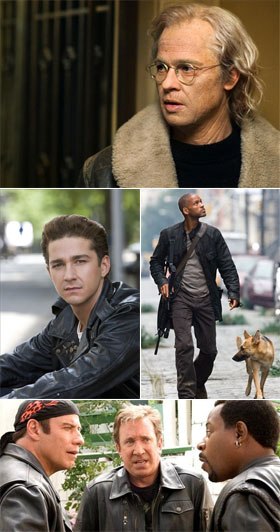 Q: Real Simple - How do you feel about Belstaff products? Especially the bags and leather jackets.
--Gonzo

A: It's hard to knock Belstaff given their Anglophilic pedigree. Hollywood certainly loves 'em, and has had success in wildly varying degrees:

Clockwise From Top:

* Older Brad Pitt in the "Button" jacket in The Curious Case of Benjamin Button.

* Will Smith in "Trialmaster" jacket in I Am Legend

* Tim Allen and others in various Belstaff jackets in Wild Hogs

* Shia LaBeouf in "Mutt" jacket in Indiana Jones and The Kingdom of the Crystal Skull

In fact, part of the reason we can't fully endorse them is they're almost a little too Hollywood. At a certain age the women start getting Botox, the men start wearing leather Belstaff jackets.