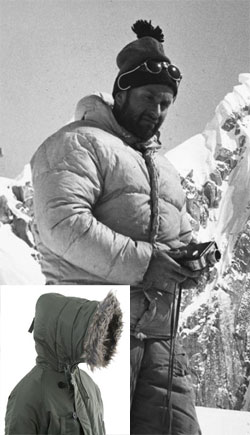 Q: Winter is upon us and I was wondering what is a MB winter coat? I'm talking for below zero, snowy conditions. I figure puffy, bubble coats and bright colored ski jackets are out. So what is a MB to do when it gets really cold and you have to go out?
--Jon G.

A: Puffy coats are definitely not out. Moncler made some of the earliest versions, and the Italians deemed them worthy for the initial ascent of K2 in 1954.

However, if you don't have an extra $900-$1000 lying around we really, really like the Spiewak N3B Snorkel Parka (also developed in the '50s) and it's just $164.95. Yeah, it is a little overkill for your garden-variety winter weather, but a good defense when Jack Frost is nipping at your nose like a pit bull trained by Michael Vick.