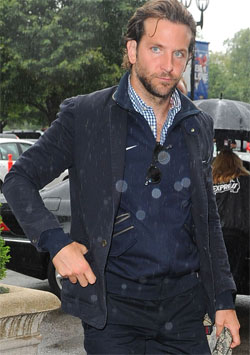 Q: Greetings! Love the site. I'm hoping you can tell me where a young professional MB might find a relaxed cotton blazer like the one Bradley Cooper has on here? Thanks.
--Drew

A: Blazers like this will be fairly plentiful in a couple of months as retailers/designers roll out S/S 2011 but for now it's slim pickings. First, browse through the sale rack at YOOX (our favorite blazer-hunting grounds) and you might get lucky. If you need this now and have shorter-than-average arms, the Lands End Canvas Chino Blazer is worth a try. It was a return for us but it's $89.50 (was just $69.50 when Canvas launched, BTW), has functioning buttonholes, a modern fit, and it's very close to what Bradley Cooper is wearing, including the alligator-length arms.

NB: Pairing with gingham strongly endorsed.

Ed. Note: Since pointing out that the blazer is 3-button vs. 2-button as Canvas originally advertised, we love how they've modified the copy to make it a 2.5-button blazer: "Also of note: this jacket has a three-button front, but the lapel is designed so only two buttons show."