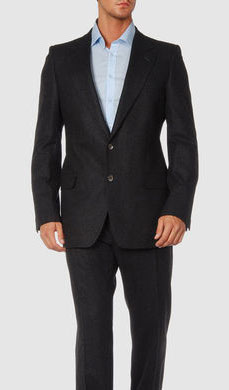 Q: I am looking at having my first custom suit made. Considering that this will be my ONLY suit, what qualities should I look for in colour, fabric & design? I'll be wearing it to weddings, job interviews, etc.
--Sean

A: For the man who only needs or wants or can afford a single suit, this is the suit to own:

Color and Fabric: Charcoal gray, in a four season wool from a top-notch textile maker like Loro Piana.

Jacket: Moderate width notch lapel. Two buttons. Top welt and front flap welt pockets. Given your Queen's English spelling of "colour," go with double back vents. (Yanks can go single vent.) Functional four-button cuffs. Light/non-existent shoulder padding.

Pants: Flat front, straight leg cut. Tab waist with zip closure. On seam front pockets, back welt pockets. No cuff.

This is a suit for a decade, at least. Let us know how it turns out.