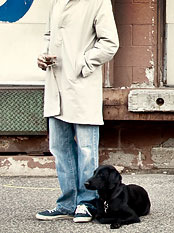 Q: In the header photo, what's in the cocktail glass the MB is holding, and how many did the lady by the loading dock have?
--Jeff

A: The MB is drinking Dewar's neat. There was no ice available on the set, but we consume it this way often anyhow. In fact, if we were stranded on a desert island (or maybe an island off the coast of Scotland) with a single spirit, it would be Dewar's, not just for its flavor, but for its versatility.

The woman in the pic came to the shoot straight (as far as we know) though a belt or two wouldn't have hurt for the header photos you are about to see.

Ed. note: If you are a woman reading this and have an interest in appearing in an upcoming MB.com header photo, drop us a line.