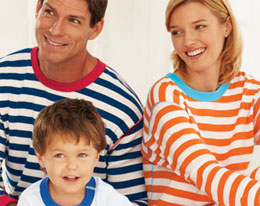 Q: Can you believe some guy would actually wear these?
--Jessica

A: Jessica, this is kind of a good news-bad news scenario.

The Good News: These are PJ's so the man will likely be seen only by immediate family members and perhaps the newspaper boy.

The Bad News: Hannah Andersson requires the man to send in his testicles with each purchase, which might explain why Sweden's fertility rate has declined so dramatically in the last 20 years.