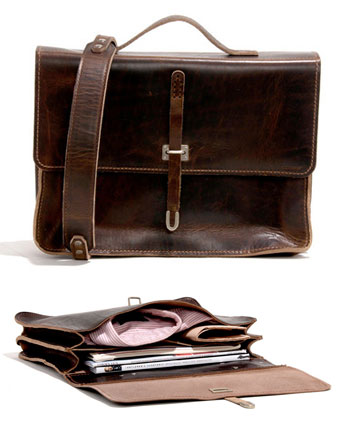 We want to get a special gift for my son's 21st birthday. We are thinking a leather messenger bag. Recommendations?
—Erik
First, pour you and your son a couple of MBs. Then, sit down and have an important conversation about the virtues of forbearance. Why are you having this conversation now? Because we're about to recommend a bag that is currently out of stock.
It's from Billykirk, and it's called the No. 236 Schoolboy Satchel. We specifically like this version in Brown Dublin leather from Horween. Which unfortunately sold out very quickly and is now out of stock.
We think the name is a bit of misnomer. These days, schoolboys tend to carry Cordura backpacks, or if they're on the path to MB-dom, maybe waxed canvas. All-leather bags, on the other hand, are generally a hallmark of adulthood. And not just adulthood. To our eye, most all-leather briefcases read as "middle-aged banker."
That's why we like the No. 236 so much. It projects substantially more maturity and sense of purpose than a backpack does. But it still has an obvious sense of play about it. And it's not too big, so it's impossible to weigh yourself down with this bag. Finally, the No. 236 in Brown Dublin has an especially artfully disheveled look to it, which we obviously appreciate. All of these factors make it perfect for a 21-year-old, and worth the wait until it's available again.
That might be a while — we have asked Billykirk if there is a target restock date and will update this post if we hear anything. But the No. 236 in Brown Dublin has a timeless style. Indeed, in 30 years or so, we suspect it will be something your son will be able to hand down to his own 21-year-old. So we encourage you to encourage him to take the long view. And in the meantime, pour yourselves another MB. The days, months, and years go fast.
UPDATE: We've received a reply from Billykirk: "We may be releasing a few more of the Dublin in the coming weeks, but we are currently working with a new leather for the Spring season. These should release online towards the end of March."
Based on this news, our advice remains largely the same: Wait. More specifically, sign up for the Notify Me When Available option on the Brown Dublin page, then wait. If the new Spring season version appears before the Brown Dublin does, who knows? Maybe it will also be a viable option.
If you and/or your son absolutely can't wait — and simultaneously have truly long-term patience, J. Crew is selling a version of the No. 236. It lacks the overt artful dishevelment and rich character of the Brown Dublin version — but it is available immediately. And a decade or so of hard use will undoubtedly improve its richness and resonance.