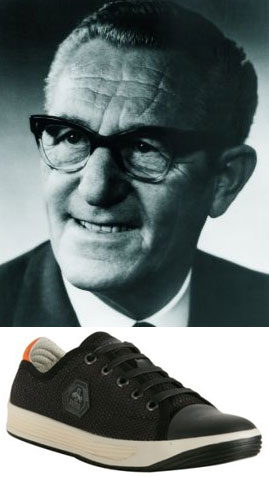 Q: What shoes are in the header photo?
--Kevin

A: They are Puma Rudolf Dassler "Metropolis Low" sneakers. We recommend them, along with lots of other Dassler models, if you're OK with fact that "Ruda" (the original name of Puma) was an even more hard-core Nazi than his Adidas-founding older brother Adi. Style before National Socialist affiliation, we always say.

Unfortunately the Metropolis are a little hard to find these days, with only sizes 13 and 7.5 available and on sale for just $61.60 at Bluefly.

Ed. Note: Another Dassler shoe, the Standpunkt, also made an appearance in an MB header in early 2009. This is a highly-recommended (and far more available) model.

UPDATE: The size 13s at Bluefly quickly sold out once this entry was posted, but sizes 11 and 12 are available at Tagotti Shoes, also at a deep discount. Unlike most other Puma footwear, these fit true to size, so no need to add one.