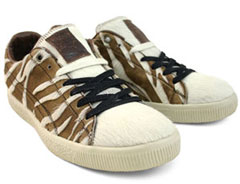 Q: I have a pair of brown pony hair Puma Clydes, but am trying to find them in black. Any suggestions?
--Mike

A: First of all, consider yourself lucky to own a pair of these at all. (They're rare ... what's the deal? Is there a pony shortage or something? Grow some more.) Second, you want to know what sucks worse than not finding the shoes you desire? It's when you Google "puma pony hair" + black and our own site has the #1 and #2 search results. As if we're going to be of any help!

Your best bet is to set up Google and eBay alerts. If you insist on the pony and can't wait to find the black, the "Clyde Jungle Pack" is available and on sale for just $90.

OK. Wait until you find the black.