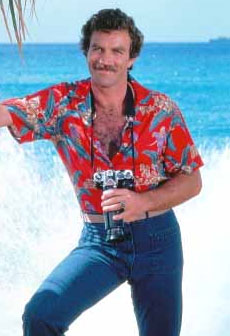 Q: How can a 36 year old male dress in resort casual without looking too metrosexual, preppy or like a Tommy Bahama wanna-be?
--Mollee

A: From top to bottom:

Knit Shirt: Polo with sleeves that hit at about the middle of the bicep. No logos if possible, especially none with the name of your country club or a high-end public course he recently played. Be sure to follow the polo shirt button rule.

Woven Shirt: At least one in white, of course. Unpressed. Just take it out of the dryer and go. Not buttoned-down. If it's not specifically designed to be worn untucked, have him tuck it in.

Sweater: Fine gauge v-neck cashmere. Period. On cool nights have him toss this over the polo or the woven and let his shirt collar just do what it wants to do.

Pants: No pleats. No creases. No linen. Khakis with patch pockets are a solid choice. Only denim if it's dark and dressed up, like Theory. Shorts OK too, but when the sun goes down remember the rule: pants only.

Footwear: Plimsolls or Jack Purcells. Sandals or flip-flops (but only if they're made from organic materials).

The Feet Themselves: If he chooses the sandal/flip-flop route, remember this rule about feet: If you wouldn't put his toe in your mouth, you need to convince him to get a pedicure.