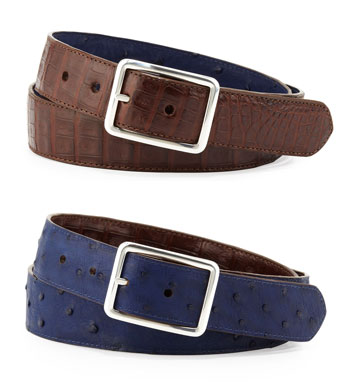 Q: Wondering what you think about reversible belts like this croc/ostrich one — toolbag gimmick or useful wardrobe expansion technique? Also, that buckle looks strangely familiar.
—Jim
A: At first glance, a belt that efficiently moonlights as another belt might seem to violate the principle of senseless lack of utility. In this case, though, the utility manifests itself in the realm of style. That is to say, a reversible belt doesn't make any claim to hold up your pants better, or provide some other practical benefit. It just multiplies the possibilities of looking magnificent. And that's the kind of utility we can embrace. In fact, we have plans to someday release a reversible belt ourselves.
Nonetheless, while we conceptually endorse reversible belts, there's still the matter of execution. Regarding the belt you've got your eye on, we love the Caiman crocodile side. But we think the full-quill ostrich side should probably bury its head in the sand. In other words, we'd approach this one as a strictly one-sided belt if we were to incorporate it into our wardrobe.
Finally, yes, that buckle does look familiar. Same one we use on our cashmere belts. Good eye!