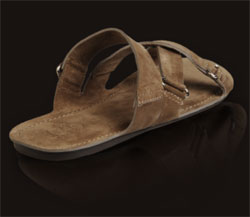 Q: Do you have any recommendations for sandals that do not have a strap shoved between my big and second toe? I know it's a hang-up of mine, but the feeling of having the strap tug up between those two toes is too much like having underwear run up my butt crack. In other words, do you have a good "commando" sandal suggestion?
--Richard

A: We don't have the same hang-up as you, and we've never had underwear run up our butt crack, but if you're feeling that thong sandals are too much like a capital "T" Thong, then definitely leave those to the fairer sex.

A couple of years ago, during our first-annual Pedicure Awareness Month, we recommended these Paul Smith crisscross sandals from Barney's Co-Op. They're long gone now, and this has been a lousy season for great sandals, but the idea is the same: go for crisscross or strap sandals with an opening wide enough to not compact your toes, like this versatile sueded Bally version, now 50% off. (Limited sizes, so hurry.)

Ed. note: If you have toes not fit for public consumption (you know who you are) and insist on sandals, please be kind to others and go closed-toe fisherman. Thank you.