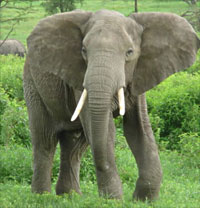 Q: What's a guy to do when his taste runs to magnificence (Barney's, etc.) but his wallet is keyed more to the Gap?
—Andrew

A: Simple one, Andrew: Get a bigger wallet.

But seriously, the less bread you gots, the harder you gots to work to discover magnificence. Use the "sale" links on the right-hand side of our home page, and regularly. Every season great values are to be had, and it's actually fun as shit to find that great-looking deal. It's the thrill of the hunt, like you're big-game hunting on the African cape.