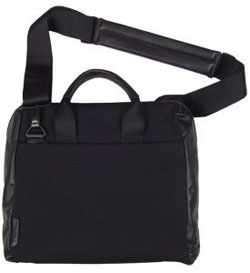 Q: I've been trying to spruce up the boyfriend for a while now, and it's time for a new messenger bag for him. Do you have any suggestions for a good laptop bag? Thanks in advance.
--Lauren

A: Lauren, first of all, congratulations to you. If you're wondering about laptop bags, a lot of quality "sprucing up" has presumably already been successful, like his personal furnishing, grooming, tie knot, and footwear choices.

An entire section of this web site should be devoted to laptop bags, but until then, the first place we always look for something special is Flight 001. Luckily for you (and your even luckier boyfriend) they currently have this Mandarina Duck briefcase, on sale, designed by Yohji Yamamoto. If you've ever been in contact with luggage from Mandarina Duck, you know there's nothing quite like its fit and finish.

Good luck and keep us posted on how the project is coming along.