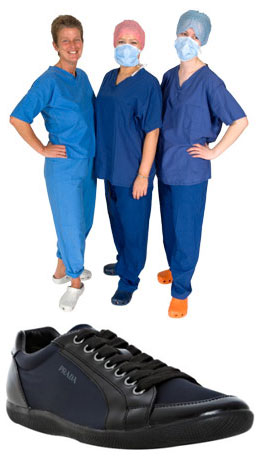 Q: Hey guys. Long-time reader, can't tell you how much I love the site. I wear scrubs (sky blue) most days of the week and am looking for dark-colored footwear that strikes a balance between professionalism, function and style. I don't want my patients doubting I know what I am talking about, but would also like something MB enough to score some points with the talented nursing staff (it would also be a plus if they were a bit blood-resistant for the operating room). Shoes are essentially the only clothing item I have any control over so I feel like I really need to nail it here. I'd appreciate any suggestions, I trust you won't steer me wrong.

Keep up the strong work,
—BB

A: Doc, you want a blood-resistant shoe that's professional, comfortable, stylish and goes with sky blue scrubs? That's a tough prescription to fill.

On the other hand, the last time we went under the knife everyone in the OR was wearing Crocs, so you do have the advantage of low expectations working in your favor. Indeed, it's hard to imagine footwear less resistant to blood than Crocs — all those holes must mean the country's surgeons possess a lot of DIY polka dot socks!

Given that scrubs are essentially sweats for medical personnel, we think you should go with something that's obviously sporty, like these navy nylon and black leather sneakers from Prada. They'll communicate professionalism to your patients and style to the talented nursing staff, while being comfortable during surgery and easy to clean in case that angioplasty patient has really high blood pressure. At $336 a pair, they're not cheap, but that's what Medicare's for, right?