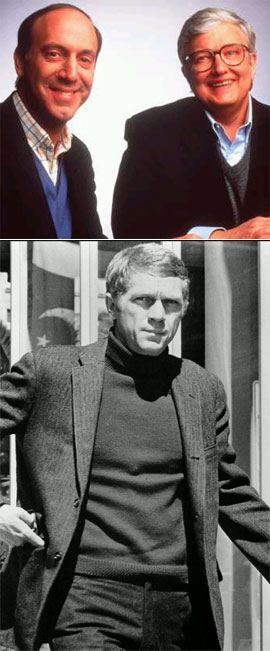 Q: Now that we're in sweater weather, what are the rules for wearing a sweater with a suit or sportcoat?
—Dave

A: We only have one rule when it comes to sweaters under blazers: don't look like Gene Siskel or Roger Ebert (top).

Instead, go for something fine-gauge in crewneck as demonstrated by Robert Redford, or our personal preference, the turtleneck as shown by Steve McQueen most famously in Bullitt (bottom).

While we're pretty sure McQueen could handle wool against his skin, we suggest opting for cashmere. If you have the bread, Malo is the obvious, best choice. If you don't, take a look at 8, available at YOOX. We've obsess over cashmere sweaters and have discovered 8 is the best value going, and this version is on sale for just $135. Fits slightly small.