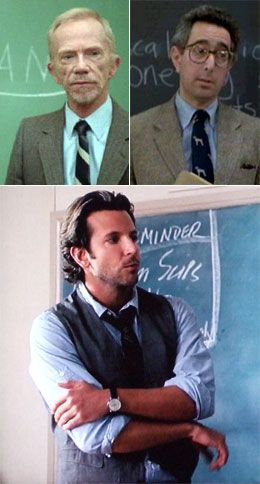 Q: I'm starting a new school year on Tuesday and want to know: what does an MB teacher wear?
--Eric

A: As is often the case, movies hold the answer. You want to set yourself apart from the Phys. Ed. teacher, but not go too dressy in the direction of Mr. Hand or Ben Stein's famed economics teacher; it's a slippery slope towards administration, or Looking Like Principal Richard Vernon.

While this was the least believable movie role since Denise Richards played a nuclear physicist in The World is Not Enough, Bradley Cooper's artfully disheveled prep-school teacher in The Hangover strikes a fine balance: vest (one size smaller than normal), sleeve-rolled chambray work shirt, undone repp tie, accessorized with a vintage watch in a black nylon band.