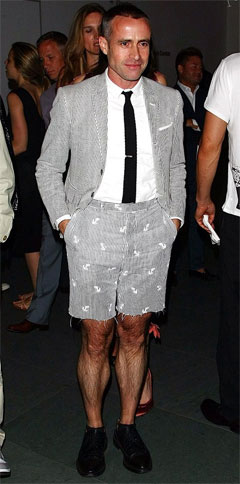 Q: Should Thom Brown have his right to produce men's fashion revoked, or is it ever ok for an MB to look like THIS???
--Javier

A: As far as we can tell, Thom Browne's primary contributions to fashion are:

1. suits with capri pants, and

2. suits with shorts.

If you're a wee man who wants to flaunt his weeness, then Thom Browne is your god. This particular get-up makes him look like a tiny, hairy puppet IBM invented to sell toner cartridges to yacht clubs. We sincerely do not get it.