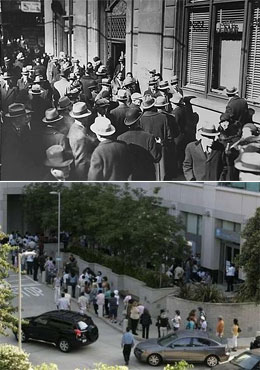 Q: I am saddened to think that I will see two great things become extinct in my lifetime: the internal combustion engine and neckties. Richard Whitbread, marketing manager of Tie Rack, said: "Since the doom and gloom (bad economy) set in, sales of ties have picked up. We have seen a 10 percent increase in sales over the last quarter. When people start to be more concerned about their jobs, they start to smarten up. Also a lot of people are looking for jobs at the moment." What he forgets to mention is that necktie sales are 15% of what they were 15 years ago. That's such a huge decline, it leads me to believe that hasty Father's Day gifts and funerals make up the bulk of necktie purchases. In your opinion. will neckties go the way of knickers?
--Eric

A: We'd expect the increase in tie sales to continue. Also incoming for Fall 2008: flannel suits, long topcoats, hats of all shapes and sizes, and general black-and-whiteness.

Top: Run on bank then.
Bottom: Run on bank now.