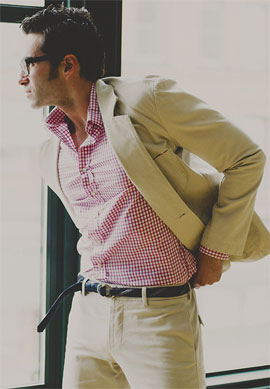 Q: What's the MB in the header wearing? The shirt is mostly likely a custom shirt, what about the pants and shoes? Thanks!
—Viktor
A: Good eye on the shirt. That is a custom Deo Veritas made with windowpane Thomas Mason in magenta. It's $138 and totally worth it. Vinnie makes great shirts and if you mention MB he'll take good care of you.

The pants are the bottom half of a suit separate prototype one of us is working on.
The shoes are Converse Chuckit mesh sneakers. They work best for the beach or pool but can also be adopted as streetwear during hot Pulaski summers, as shown here. Unfortunately these don't seem to be available online unless you are OK with purple in men's sizes 3, 4, or 7.