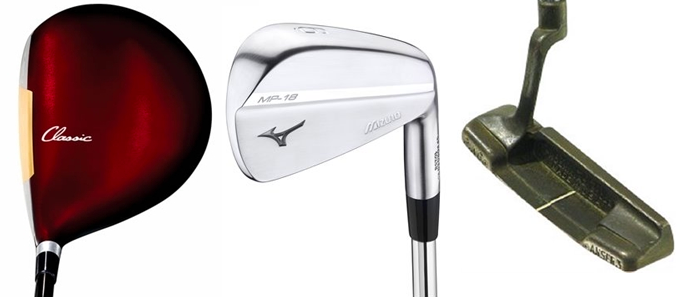 Getting into minimalist casual golfing lately. Find myself loving the game even more. Been using Driver, Hybrid, 5 iron, 8 iron, 50, 56, 60, and putter. What's your set looking like these days?
— Jack
A: Jack, depending on the size of your bag, with only 8 clubs they could each follow CDC social distancing guidelines. Very responsible!
Glad you're loving the game more than ever, but without a 3-iron how do you punch out from the woods? Or keep something beneath branches? We'd be lost without it.
Anyhow, to answer your question, here's what's in the bag, with occasional tasting notes:
Driver: Cleveland Classic 8.5°
Before Cleveland temporarily stopped making drivers in 2014, their masterpiece was the Cleveland Classic, the closest titanium has ever come to persimmon. You can still track this down on eBay.
3-wood: Titleist 906F2 15°
3-PW: Mizuno MP-18
We're Mizuno forged blade connoisseurs and this is the best set they've ever created. Almost too beautiful to actually use. Now that they're onto the not-as-good MP-20s, you can find them for ~$600.
52, 56, 60: Titleist Vokey Spin Milled
Putter: Ping Anser 3
Every year a bunch of goofy putters appear on the market, get Golf Digest gold listed, and disappear about as fast. We just stick with an icon, understanding that there is no $300 fix for pulls, pushes, the yips, and leaving anything low.